The AAUW advances equity for women and girls through advocacy, education, philanthropy and research. In support of this mission, the Atascadero Branch of AAUW awards scholarships annually to women who have completed one year or more of college at an accredited institution. In the past few years awards have ranged from $500 – $2,000.
Eligibility for these scholarships is limited to:
Residents of Atascadero, Santa Margarita, Templeton, or Paso Robles;
Members of Atascadero Branch AAUW; and
Women who have graduated from one of these local high schools now living out of the area to attend college.
Applicants may be women at all levels of higher education. Women pursuing degrees in STEM fields (Science, Technology, Engineering, Math) are especially encouraged to apply.
Applications are evaluated based on the following criteria:
Academic progress
Financial need
Description of goals
Volunteer activities
Letters of reference
Applications for 2020 will be open in February 2020.  All applications will be due no later than April 20, 2020.  The application form for 2020 is available here: AAUW 2020 Scholarship
We suggest consulting these Tips for Successful Scholarship Applications before you complete this or any other scholarship application. They are based on feedback from reviewers of scholarship applications in previous years.  Download the tips here: scholarapptips
For further information please contact Suzy Reynolds suzy.m.reynolds@gmail.com , Judie Magonacelaya at judiejoe@charter.net or Marilyn Hamilton at mjhamilton66@charter.net, Scholarship Co-Chairs.
---
The Georgie Arnold Scholarship fund was established in Georgie's memory by her family and friends in Atascadero AAUW. It is designated for women pursuing careers in education.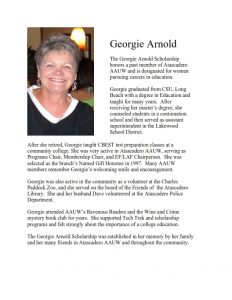 ---
2019 SCHOLARSHIP WINNERS
The Scholarship Committee is pleased to announce that Atascadero AAUW awarded four scholarships in 2019.  Three of our four recipients are graduates of Atascadero High School. Thank you to everyone who made it possible for these  recipients to continue working toward their educational goals.
Mary Alice Chishom and Suzy Reynolds,  Scholarship Co-Chairs
Congratulations to our four Scholarship Recipients of 2019
Megan Greenaway of Atascadero is in her last year at Cal Poly and will be working toward her Multiple Subject Elementary teaching credential. She is interested in obtaining her Spanish authorization and is active in music (piano and choir). She hopes to incorporate music in her future teaching position by creating a music club.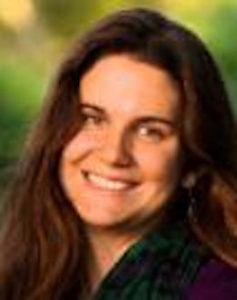 Alexis Whiteford of Pozo area (her parents own the Riconada Store) is a sophomore at Baylor University in Texas. She is active in community service, as a member of Alpha Phi Omega (a coed service fraternity.) She would ultimately like to earn her law degree where she would like to serve non-profit organizations with legal assistance.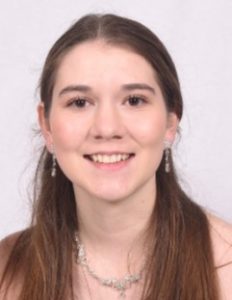 Sarah Wulff, also of Atascadero, is a sophomore, attending Cal Poly as a Kinesiology major and hopes to become a Physicians Assistant. She is a student-athlete in the Softball program where she has run clinics and camps during her first two years of college.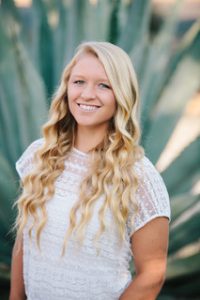 Uzma Jahanzeb was a recipient last year. She graduated high school in Pakistan and now lives in Paso Robles. She is continuing her studies in early childhood education at Brandon University. Uzma hopes to teach in the Paso Robles School District upon completion of her degree.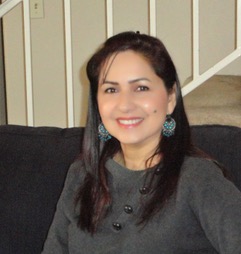 ~~~~~~~~~~~~~~~~~~~~~~~~~~~~~~~~~~~~~~~~~~~~~~~~~~~~~~~~~~~~~