In addition to our monthly programs, Atascadero AAUW sponsors a variety of other activities that promote social and educational opportunities for members and serve community needs.
                                                               Interest Groups
AAUW members may choose from a variety of small groups to explore interests such as these:
Book discussion, Great Decisions, Great Courses, knitting group, memoir-writing, hiking, French, Spanish, canasta, etc. On the "members only" page, the interest group link provides detailed information about these groups.
                                                           Community Activities
AAUW members are involved in a wide variety of community groups. We look for opportunities to bring more awareness to our mission of equity for women and girls.
Colony Days: Since 2007, Atascadero AAUW has participated in Atascadero's October celebration of Colony Days. For many years branch members marched in the parade as a group.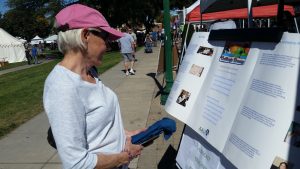 In 2019 members organized a booth and distributed information about scholarships and Tech Trek, as well as general information about membership.
Atascadero High School Greybots: Since some of our Tech Trek campers become involved in high school robotics, AAUW often provides support for the high school team to attend their annual competition. Board members determine the level of support each year.
ECHO: Atascadero AAUW supports ECHO (El Camino Homeless Organization) by providing meals and offering financial support. Board members determine the level of commitment each year.
Atascadero Loaves and Fishes: AAUW members bring donations of food to the annual AAUW December luncheon to support their Christmas Project.
RISE is a local organization that provides crisis intervention and treatment services to survivors of sexual and partner violence. AAUW Members bring gift cards for RISE to our December luncheon.
Atascadero AAUW has provided support to other community organizations on an occasional basis. For example, we supported the Friends of the Atascadero Library fundraising drive that created the Atascadero Library which opened in 2014.