Tech Trek is a summer residential math/science camp designed to develop interest, excitement and self-confidence in young women entering 8th grade in the Fall. It features hands-on activities in math, science and related fields. Qualified female, middle school science and math teachers are hired to teach the "campers" hands-on classes.  Courses include: robotics, women in math, marine biology, microbiology, solar energy, and DNA extraction.  In addition, the  "campers"  attend presentations by experts on these subjects and go on related field trips to labs.
Tech Trek started in 1998 with an Educational Foundation Community Action Grant for one California college campus (Stanford) and now the program has expanded to camps on five campuses. All sleeping, eating, instructional and recreational facilities are located on a university campus where camps are held.
2015 Tech Trekkers : Julianne Carnes, Justyce O'Rourke, Emily Thompson, Autumn Burkey, Hayley Kirkland, Jaycee  Haynes, Tara Prendeville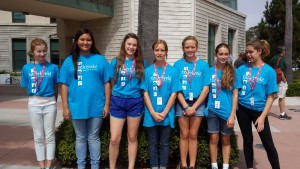 Annual Activities: 
Ice Cream socials are held annually at the Daisy Hill mobile home park.  The purpose is for the girls chosen by the 5 SLO County AAUW Branches to attend Tech Trek and their families to all meet one another in preparation for the shared Tech Trek adventure. Tech trekkers from previous years are also invited to share their experiences.  Parents talk about their girls' experiences and what their initial fears were as protective parents sending their daughters to spend a week at tech trek on a college campus.
---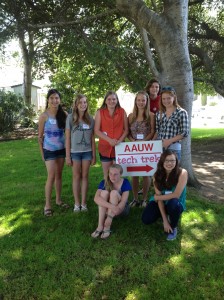 This year Atascadero AAUW was pleased to send 8 young women to Tech Trek — also in attendance at the Ice Cream Social on June 2nd along was Sophie Blanc – one of last year's Tech Trekkers, and her mother Mireille Rabier, who attended as presenters to the group.
Jan Price is committee chair for this growing program.
Jan Price reports that she has received Thank You letters from the 2013 campers…below is one of those letters:
Dear Atascadero Branch,
Thank you very much for this amazing opportunity to be chosen to go to Tech Trek UC Santa Barbara.  My Core Class is physics.  We learned about using ratios to scale down the measurements to make a scale model.  We also learned about the importance of planning.  With a group of ten girls, we made a geodesic dome using only newspaper and tape.  We scaled down a building and made a model out of paper, a tall tower out of pipe cleaners, and a tower out of paper.  The tower out of paper had to withstand the weight of a tennis ball and not fall over when we blew a fan on it.  We went down with the chemistry class and we did some experiments with liquid nitrogen.  We put some balloons in the nitrogen and they shriveled up and when we took them out, they expanded to their regular size.  We also cleaned up an "oil spill" with different materials such as sponges, cotton balls or qtips.  We also have a project group where we have to figure out, "what to do with a decommissioned oil rig."  We have to make a power point describing our design, a model of the oil rigs, jacket, and a tri-fold board with a drawing of our new design.  We are going to make a six-story mall with a boat gas station, a 7-Eleven, a Sand Dollar Café, an aquarium for two floors, a Red Lobster, and an oil rig history museum.  I am so grateful that I got to have this amazing experience at Tech Trek UC Santa Barbara.
Sincerely, Abigail Wright