Each monthly program will be listed in the current issue of the Branch Breeze and in the online Calendar of Events. Please check for correct times and locations as they may change. Friends, family and prospective members are invited to all programs. 
NOVEMBER GENERAL MEETING: ADVANCE DIRECTIVES
WEDNESDAY, NOVEMBER 13, 2019

6:30 PM SOCIAL TIME,  7:00 PM PROGRAM
ATASCADERO LIBRARY COMMUNITY ROOM
NEED TRANSPORTATION TO ATTEND OUR MEETINGS?  If you would like a ride to one of our AAUW meetings or functions, please call or email Judie at 466-9576 or judiejoe@charter.net.  We will do our best to find someone near you who is attending and can provide a ride.
To learn more about Atascadero AAUW, Inc. in general, please contact one of our Membership Chairs:  Linda Hansen at lmhansen2001@msn.com  or Sally Dunn sallydunn@gmail.com
2019-2020 GENERAL MEETINGS
Click here for a downloadable pdf of our 2019-2020 meeting dates: AAUW Fall Meetings and Events for 2019, 2020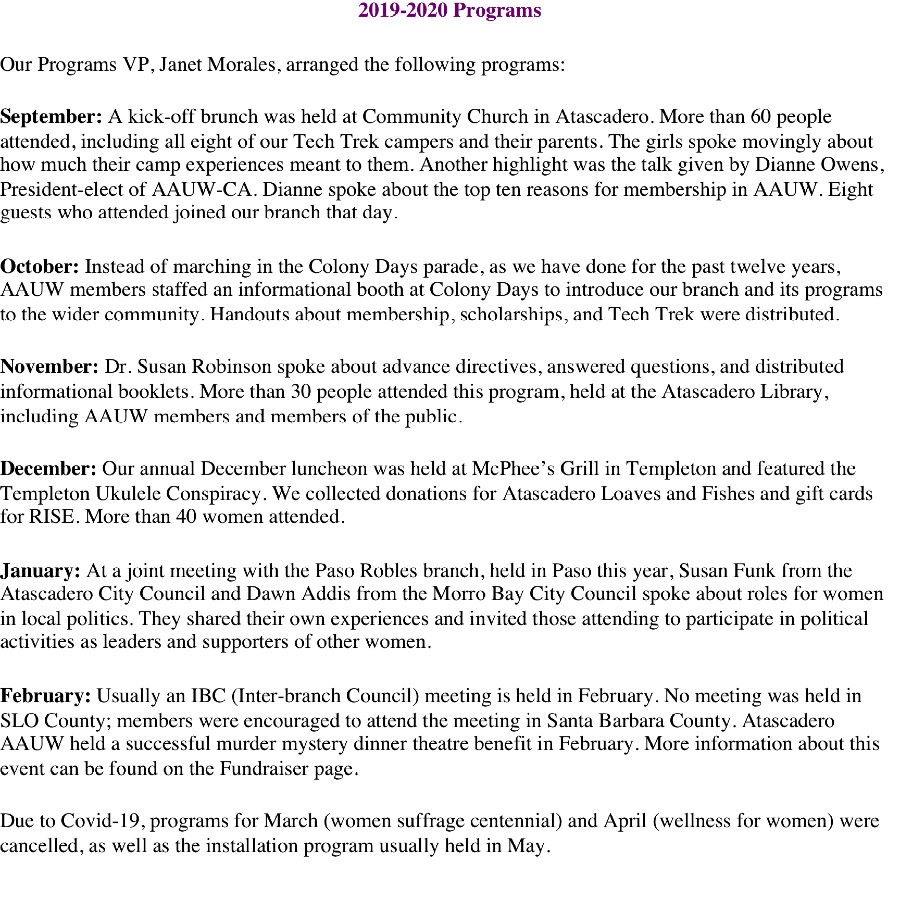 SATURDAY, JANUARY 25, 2014
11:00AM – Joint meeting with Paso Robles Branch moved forward one week to January 25th. the guest speaker is Jerusha B. Greenwood.  She is from the Recreation and Tourism Department at Cal Poly. A graduate of University of Utah, she holds a B.S. in Environmental Studies, and an M.S. in Recreation and Tourism. Dr. Greenwood received her Ph.D in  Parks Recreation and Tourism from North Carolin University. She has been  part of the Cal Ply San Luis County community since 2006. We are looking forward to her information and knowledge of the North County both now and in the future. The program will begin at 11am at the AARP building, located at Atascadero Lake, 7848 Pismo. If you have questions Cynthia Stansbury 237-1836 of the Paso Branch or Marguerite Pulley 464-0906.
SATURDAY, FEBRUARY 22, 2014
10:00 – IBC at Madonna Inn
WEDNESDAY, MARCH 12, 2014
7:00pm – Hispanic Outreach (Women's History Month) at AARP Bldg.
WEDNESDAY, APRIL 9, 2014
7:00pm – Program and location TBA
SATURDAY, MAY 17, 2014
10:30am – Installation of Officers/Brunch
===========================================================================
SATURDAY, SEPTEMBER 14, 2013 — KICK OFF BRUNCH
11:00am at AARP Bldg (Atascadero Lake Park).  Guest speakers Beverley Collier and Tonya Winje of the Family Care Network will inform us of the important work being done in SLO County with young people who need help.
SATURDAY, OCTOBER 19, 2013
Colony Days Parade and Tent City
WEDNESDAY, NOVEMBER 13, 2013
At the Atascadero Library 7:00 p.m. Featuring HABITAT FOR HUMANITY  and TECH TREK CAMPERS
Come hear how Habitat for Humanity rebuilds lives in our communities. Julie Ogden will tell us about the successes and challenges of HH on the central coast. HH acquired their first property in 1998, in Paso Robles. To date, Habitat for Humanity for San Luis Obispo County has built 14 homes: one in Cambria, four in Atascadero, three in Paso Robles, four in Grover Beach and two in San Luis Obispo. HH is currently in the planning stages of several new projects that would allow HH to build as many as 15 homes over the next three years! In both its volunteers, directors and beneficiaries, HH strives to reflect the nationalities, occupations, income levels, and age groups of our community. Such diversity offers a wide range of experience and perspectives, and provides a strong base of operation.
In addition, we have invited our Tech Trek campers to share some experiences from their week at the extraordinary Math-Science camp at UC Santa Barbara. Heather Wulff, a Tech Trek alumni, who served as a Jr. Counselor this August, will also share her time at camp. This is a wonderful opportunity to learn more about this program which our Branch has supported from its inception.
SATURDAY, DECEMBER 7, 2013
11:00am – Winter Solstice Lunch at McPhee's in Templeton. AHS show choir entertains.
PRESIDENTS' MESSAGE – June 2014

We have had a wonderful year. Thanks to everyone who worked so hard to make the Atascadero AAUW such a vital organization.
Shirley Summers and Judie Magonacelaya did a great job installing the 2014-2015 officers on May 17th. Thank you, Marguerite, for your work all year. The installation was no exception. We hope all of our members will be able to support the Atascadero High School drama students in their quest to raise funds to go to Scotland in August. They gave us a wonderful peek of "Footloose," their planned production for the competition. See the information about their free performance July 26th in this issue of the Branch Breeze.
Good luck to the new board. We will be there to support you.
Belle Mason and Jan Parker
---
Presidents Message January 2014:
Do any of you feel the way we do, "Where has 2013 gone?"?  We hope you had a chance to connect with family and friends during the recent holiday season. Now on with 2014.
During 2013 Barbara Brogan diligently worked on the 501c3 application for our Branch. She has been the driving force behind this project that will designate Atascadero AAUW, Inc. as a non-profit. In the past anyone wishing to donate to our projects, other than Tech Trek, could not use the donation as a tax write-off. This became obvious when we solicited items for the Mardi Gras auction last year. When the IRS finally approves our application, we should not have those hesitations. Thanks, Barbara, for your hard work on our behalf.
The final step before submission of the 501c3 application is the approval of the bylaws. This must be done by the general membership. You should have received the proposed new bylaws in an email sent on December 9th. To avoid an additional meeting, we have decided to have the general membership meeting before the January 13 board meeting at Liz Helgerson's home. The general membership meeting will start promptly at 3:45 PM. The board meeting will start directly after voting on the bylaws. If you are not a board member, please let Liz know that you are coming, 462-9221. Board members will follow the usual procedure of notifying Liz of your attendance.
Now let's talk about some fun stuff. Have you made your reservations for the 2nd Annual Mardi Gras Fundraiser March 4? See the details of the party in the Breeze. Marguerite Pulley tells us that the joint meeting with Paso Robles on January 25 is going to be very interesting. The IBC luncheon in February will feature young women who have received fellowships from AAUW.
We have covered January through March doings for our branch. See how fast the year flies by? Do come out to the activities of our AAUW branch. We look forward to seeing each of you.
Belle Mason and Jan Parker – Co-Presidents
~~~~~~~~~~~~~~~~~~~~~~~~~~~~~~~~~~~~~~~~~~~~~~~~~~~~~~~~~~~~~~~~~~~~~~~~~
Co-Presidents for 2013-2014 — Belle Mason and Jan Parker — were installed on June 15th at the Carmody-McKnight vineyard.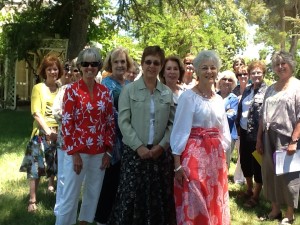 Thanks to everyone who attended and made this a special day for the new Board – pictured above.
Awards were given out to several members:
Sue Sly received THE BOARD AWARD for her organization of the Colony Days parade and her wonderful decorations for our Mardi Gras Fundraiser
THE COMMUNITY SERVICE AWARD went to Alice Rew for her many years of volunteer work at the Atascadero Library.
Larry Price received THE MUG AWARD for his help in picking up, storing and delivering yard sale items this year.
Three PRESIDENT'S AWARDS were presented to: Linda Zirk for organizing and overseeing the Mardi Gras Fundraising Event venue and menu, entertainment, and forming the committee; Audrey Hooper for organizing and overseeing all the auctions items donated for the Mardi Gras fundraiser; and Stevia Shaw for designing the graphics for tickets and other advertising materials.
AAUW FUNDS AWARD: Barbara Brogan was recognized for her generous contributions to AAUW National Funds.