Atascadero AAUW hosts informative monthly programs for members and guests from September through May. Many of the programs are open to the public.
Programs for 2020-2021 are being developed. Due to the pandemic, some programs may be held in a virtual format. Members will receive notices about upcoming programs.
2019-2020 Programs
Our Programs VP, Janet Morales, arranged the following programs:
September: A kick-off brunch was held at Community Church in Atascadero. More than 60 people attended, including all eight of our Tech Trek campers and their parents. The girls spoke movingly about how much their camp experiences meant to them. Another highlight was the talk given by Dianne Owens, President-elect of AAUW-CA. Dianne spoke about the top ten reasons for membership in AAUW. Eight guests who attended joined our branch that day.
October: Instead of marching in the Colony Days parade, as we have done for the past twelve years, AAUW members staffed an informational booth at Colony Days to introduce our branch and its programs to the wider community. Handouts about membership, scholarships, and Tech Trek were distributed.
November: Dr. Susan Robinson spoke about advance directives, answered questions, and distributed informational booklets. More than 30 people attended this program, held at the Atascadero Library, including AAUW members and members of the public.
December: Our annual December luncheon was held at McPhee's Grill in Templeton and featured the Templeton Ukulele Conspiracy. We collected donations for Atascadero Loaves and Fishes and gift cards for RISE. More than 40 women attended.
January: At a joint meeting with the Paso Robles branch, held in Paso this year, Susan Funk from the Atascadero City Council and Dawn Addis from the Morro Bay City Council spoke about roles for women in local politics. They shared their own experiences and invited those attending to participate in political activities as leaders and supporters of other women.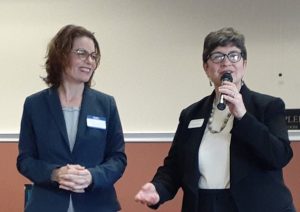 Dawn Addis & Susan Funk Jan 25, 2020
February: Usually an IBC (Inter-branch Council) meeting is held in February. No meeting was held in SLO County; members were encouraged to attend the meeting in Santa Barbara County. Atascadero AAUW held a successful murder mystery dinner theatre benefit in February. More information about this event can be found on the Fundraiser page.
Due to Covid-19, programs for March (women suffrage centennial) and April (wellness for women) were cancelled, as well as the installation program usually held in May.