The Atascadero branch of AAUW was chartered in November 1937.  It was the first branch in SLO County. It from that sense of history in the community, that we draw each year as we involve ourselves Atascadero's annual celebration of Colony Days. As suffragettes at Tent City to marchers in the annual Colony Days parade, AAUW Atascadero has actively participated, often times winning awards and recognition not only for our performance but our involvement in the community as well.
COLONY DAYS 2019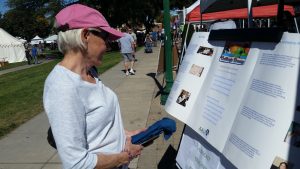 This year's theme was "California Dreams."  Atascadero AAUW sponsored a booth with the theme of "California Dreams for Women."  We highlighted AAUW's mission of equity for women and girls and gave out information about membership in AAUW and applying for college scholarships.
COLONY DAYS 2017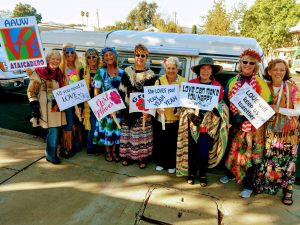 The theme of the 2017 Colony Days Parade was 'Fall in Love with Atascadero"
COLONY DAYS 2015
The theme of the 2015 Colony Days Parade was 'Volunteers on Parade."  We represented ourselves as the organization that is ALL HEART by wearing white clothing with red felt hearts sewn on.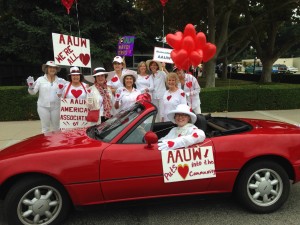 COLONY DAYS 2013 – Atascadero's Centennial
A group of Branch Members walked in the 2013 Colony Days Parade – the Centennial of the founding of Atascadero – on Saturday, October 19th. The photo below shows our walkers waiting for their spot in the Parade!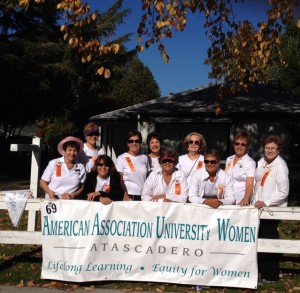 """""""""""""""""""""""""""""`
AAUW wins  2012 Colony Days parade entry for
Best Representation of the Theme:  Back to the Future.
What a statement AAUW made on Saturday, October 16, 2012 in the Colony Days Parade!
Dressed as famous women from the past, present, and future, equity for women was the message loud and clear.  Thanks to the following women, girls, and young children who represented successful women through the ages who have fought for women's rights: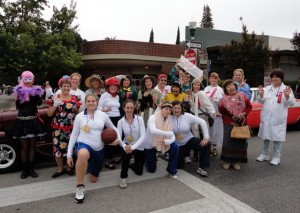 Betty Adiene as World War II Nurse Virginia Henderson; Elizabeth Brousse as Jane Goodall; Barbara Brogan as CEO of Facebook; Pam Contreras as Race Car Driver Danika Patrick; Janet Grummitt as her mother, Accountant Roberta Wolfe; Liz Helgerson as Marie Curie; Janet Morales as World War II Rosie the Riveter; Brenda May as Joan of Arc; Brenda Nicovich as Girl Scouts Founder Juliet Low; Jan Price as Supreme Court Justice Ruth Ginsberg; Kaye Rasband as Amelia Earhart; Sue Sly as Cherokee Chief Wilma Mankiller; Shirley Summers as Social Worker Jane Addams;  and Rosemary Wachtel as Dr. Gertrude Elion.
Students were Lulu Mac as Lady Gaga; and Sophie Blanc, Amanda Calmer, Gillian Umphenour, and Sabrina Van Beck as Olympic Athletes.
Our young mother was Candace Hubbard as Astronomer Henrietta Leavitt with her young daughter Valerie as the 1st Inhabitant of Mars.  Our two women drivers were Marilyn Hamilton in a beautiful 1929 Roadster and Diane O'Neil in a drop-dead orange 1957 Chrysler.
Many thanks to all you who participated and gave AAUW another voice in the community.